Beach Volleyball: Bello brothers seal knockout qualification against Cyprus
A carnival atmosphere accompanied Joaquin and Javier Bello's 2-0 (21-11, 21-18) victory over Cyprus' Charalambos Zorbis and Antonios Liotatis in their second Pool C match.
The twins are guaranteed of a quarter-final spot and now sit top of the pile with a stern test against New Zealand to come on Wednesday at 8:00pm to decide who will finish top of the Pool.
Javier said: "It feels great. It was obviously what we expected to do but you have to go out there and do it under pressure in the big stadium. Today was about staying cool when things didn't go our way.
"New Zealand are a team we've lost against in the past so we're looking to get some revenge on them. It's also a chance to get into a rhythm and get used to playing in that stadium."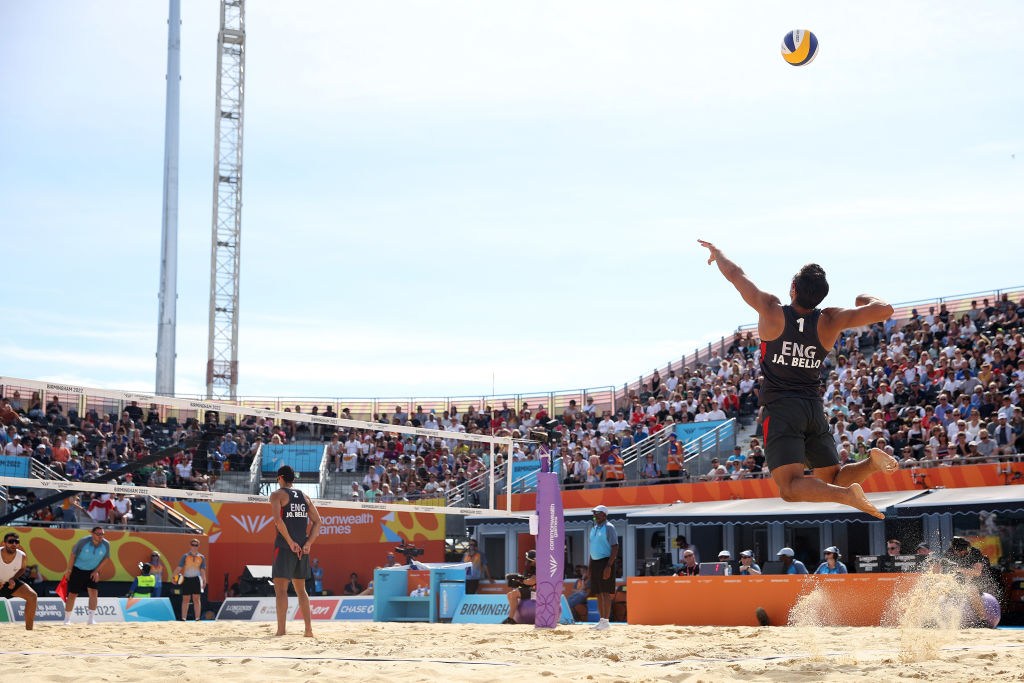 Lawn Bowls: Tolchard and Walker to contest gold on Tuesday
Sam Tolchard and Jamie Walker beat Scotland's Alex Marshall and Paul Foster in the Men's Pairs 19-13 to progress to the gold medal match against Wales on Tuesday at 8:30am
Tolchard says the pair are razer focused on bringing home a second bowls gold for England: "We played good today. There's no point in going mad because if we don't win tomorrow it means nothing. We need to get our heads down, play like we did today and if we do that we stand a good chance."
Elsewhere there was a 16-10 semi-final defeat for the para women's pairs B6-B8 of Michelle White and Gillian Platt, and for the para men's pairs B6-B8 of Kieran Rollings and Craig Bowler who lost 17-4 in the semi finals to Australia.
The men will contest their bronze medal match against New Zealand on Tuesday at 4:15pm while the women will battle South Africa for bronze on Wednesday at 3:00pm.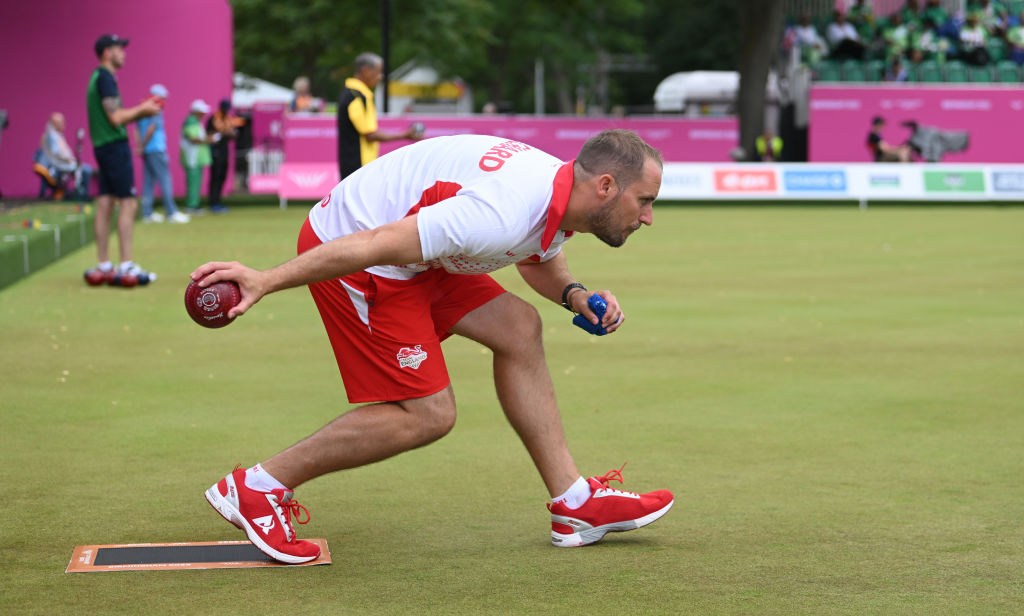 Netball: England make light work of Northern Ireland
The nation's netballers made it three from three after their 71-27 Pool B win over Northern Ireland this evening.
They sit top of their Pool on the same number of points as New Zealand and look set to make the semi-finals, with a match against Uganda to come on Tuesday at 6:00pm.
Stalwart Jade Clarke paid respect to their home nations opponents post-game and praised her own side's performance.
She said: "We knew we were going to hit a really fast, aggressive Northern Ireland, a more similar style to us. We had to really switch that mindset from playing Malawi before.
"What was good about today was that we built every quarter. A lot of the things we worked on in training you could see that on court. We're really pleased and some really good performances."
Hockey: Men stun India in thrilling comeback

The men's hockey team held on to their unbeaten record at this year's Commonwealth Games with a dramatic 4-4 draw that keeps them top of Pool B.
The hosts were 4-1 down in the last quarter after India had romped to an early 3-0 lead, but two goals from Nick Bandurak either side of a Phillip Roper strike completed an unlikely turnaround with six minutes to spare.
England's final Pool game takes place at the University of Birmingham on Thursday at 2:00pm where they will play Canada.
Bandurak reflected: "Once the emotion dies down and we can reflect coldly at it, we should never have found ourselves in that deficit. India were ruthless and clinical and we just weren't getting that final connection in the circle.
"Sport's funny, isn't it? As soon as the second half started to roll, the crowd got behind us, we got extra energy, things started to happen in the 23m and happened for us. A few more minutes and I believe it could have gone in our favour."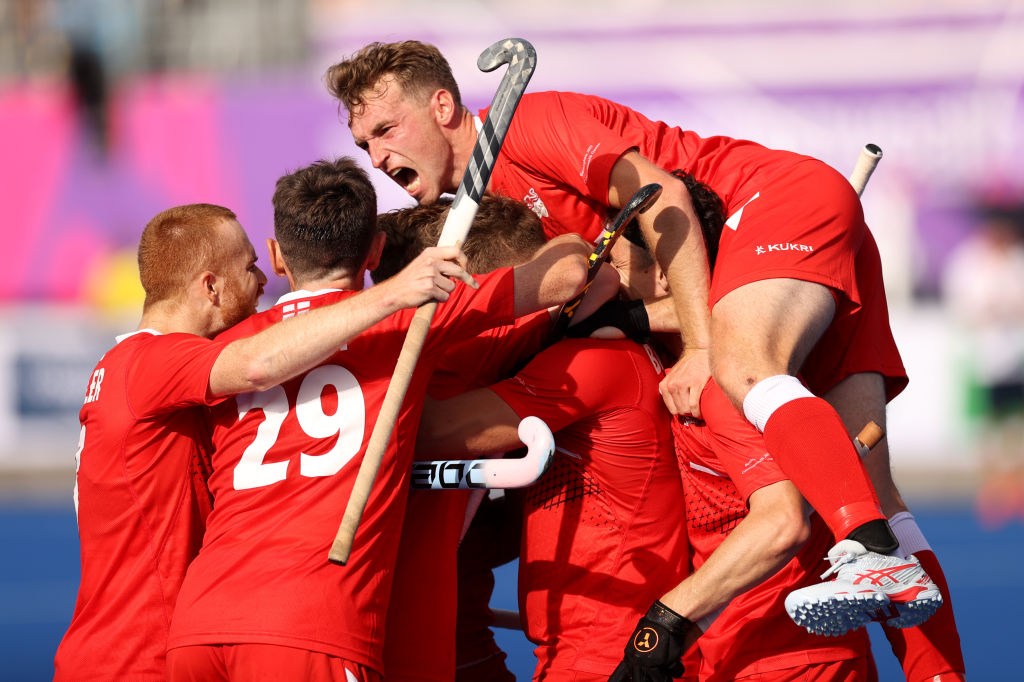 Badminton: England settle for bronze medal match after Malaysia defeat

England will compete for Commonwealth Games bronze in the mixed team event after suffering a 3-0 loss against Team Malaysia in Monday's semi-final at the National Exhibition Centre.
The semi-final got off to a promising start at the NEC as Marcus Ellis and Lauren Smith took the first game against Chan Peng Soon and Cheah Yee See 21-12 but the Malaysians hit back to take the next two 21-18, 21-13.

The focus then switched to Toby Penty, who lost out 21-13, 21-14 against fifth seed Ng Tze Yong.

Penty's defeat meant that Sean Vendy and Ben Lane needed to win their men's doubles rubber to give England any chance of progressing to the final, but they were narrowly beaten 21-17, 21-18 by top seeds and Olympic bronze medallists Aaron Chia and Soh Wooi Yik in the men's doubles.
That result sealed Malaysia's progression to the gold medal match while England will take on either Singapore or India for the right to earn a medal in front of a passionate home crowd.
Smith said: "We're definitely disappointed. I think we had our chances in that game, we started exceptionally well, we executed our game plan and put a lot of pressure on them.
"Unfortunately, in the second game, it was a tougher end to play on. We just didn't execute a few serves and basic things.
"We became a little bit hesitant and a bit desperate in our shots instead of just playing the rallies out, and that cost us in the end, which is frustrating."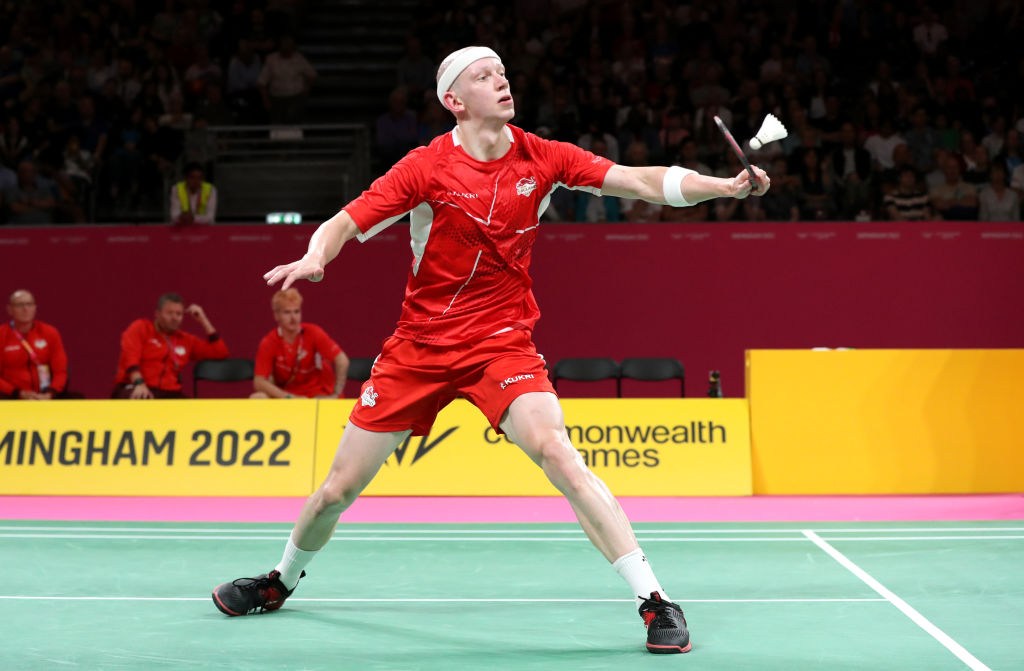 Squash: Kennedy, Perry and Willstrop through but Turmel and Waller exit at quarters
James Willstrop came through a tough match against Scotland's Rory Stewart to book his semi-final spot with a 3-2 (11-5, 9-11, 7-11, 11-6, 11-8) win.
He praised his opponent afterwards: "A lot of it was digging in hard. You think he's absolutely gone, he looked gone at 1-1 but then he kept finding more. He kept putting in when I thought I had him. He's quite hard to play."

Gina Kennedy guaranteed herself a shot at a medal with a 3-0 (11-4, 11-2, 11-1) quarter-final win over Malaysia's Rachel Arnold, and you can catch her in semi-final action on Tuesday at 5:45pm against Sarah-Jane Perry.

Kennedy was pleased with her performance saying: "I feel like everything just came together tonight. I was feeling really good and confident in the matches leading up to this and it was one of those days where I felt like I was seeing the ball like a football. Everything just felt smooth and relaxed."
Perry also breezed through her quarter-final to face Kennedy after beating Wales' Emily Whitlock 3-0 (11-6, 11-6, 11-6)
Ahead of an all-English showdown Perry said: ""We play the same game but that's about where the similarity stops. We'll both be massively up for it. A place in a Commonwealth final doesn't come around very often, only every four years and I'm just absolutely thrilled to be there fighting up in the medals."
And despite making a fine start to the match, Lucy Turmel was beaten 3-1 (9-11, 18-16, 11-9, 14-12) in a hard-fought quarter-final battle with New Zealand's defending champion Joelle King.

The 22-year-old was upbeat after the defeat saying: "It obviously stings a bit, one point in it there at the end. I'm quite happy overall. I'm on there to win and that didn't happen obviously but I feel like it was a good match for everyone watching.
"My family are all here watching today, it was a huge moment for me. When I came off the court, the first person I saw was my brother, I gave him a hug and that's it for me, this is going to be a special couple of weeks."
Adrian Waller suffered the same fate at the hands of 2018 silver medallist and New Zealander Paul Coll, losing 3-0 (12-10, 11-4, 11-7).
He paid respect to his opponent afterwards: "It was a tough match. Paul has proven he's one of the best players in the world, he's been world number one for most of this year. So it was always going to be hard for me to make inroads."
Wheelchair Basketball: Women to fight for bronze

The women's wheelchair basketball team were on the wrong end of a tight result in the semi-finals this afternoon, losing 8-6 to Australia.
The Aussies raced into an early lead which they failed to relinquish, leaving England to fight for third in a home nations tussle against Scotland on Tuesday at 5:30pm.
And Amy Conroy, who scored three points in the defeat, is relishing the challenge.
She said: "We need to pick ourselves up. It's not the game we wanted it to be but we're going to come out fighting tomorrow. One of them said to one of our teammates I hope we can still be friends after this. Okay, bring it on then!."