The lawn bowls events are nearing the crunch stage, badminton medals are within reach and table tennis stars are one step closer to glory - all feature in our round up of day eight.

One match away from glory for hockey women after dramatic penalty shootout
England won a dramatic penalty shootout to advance to the final of the Commonwealth Games following a tense stalemate with New Zealand.
Maddie Hinch once again proved to be the match winner, as she was for Team GB in the 2016 Olympic final, with a series of stunning saves in the shootout.
This set up Izzy Petter and Hannah Martin to score and guarantee the host nation a medal.
New Zealand had won a shootout between the two at the same stage of the Games four years ago in Australia but England got revenge in the best possible way, thanks in large part to shootout specialist Hinch.
In a closely fought 60 minutes of normal time, the Black Sticks battled hard and for long periods were able to control possession.
But England improved as the game went on and piled on the pressure in the final quarter.
Although they couldn't find the winner in normal time, Hinch proved unbeatable in the shootout and set-up a final with either Australia or India on Sunday.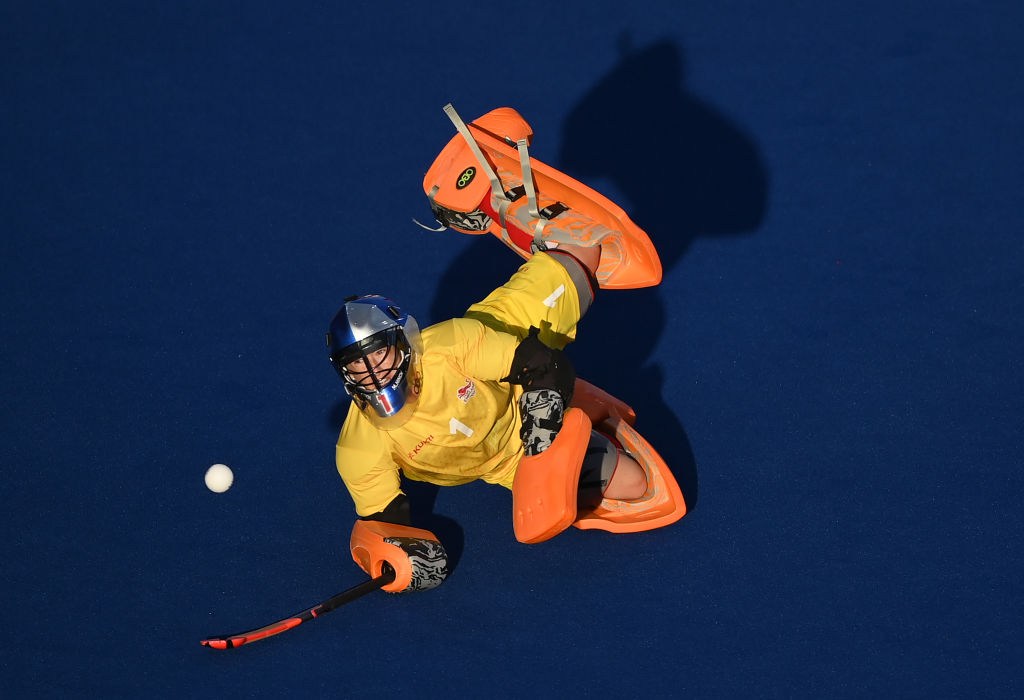 Afterwards Hinch said: "Those sort of occasions are what keepers, and hopefully young goalkeepers, are inspired by.
"To do it on a platform like that, with that home crowd, really gives you that extra bit of belief. I tried to go out there with no regrets.
"I'd done a bit of homework. Sabbie [Heesh], our number two goalkeeper, did an incredible job with some scouting for a bit of extra information.
"New Zealand have been off the scene for a while so I didn't have as much as I hoped but I had to trust my process and instinct, having done this a lot of time. I had to calm my nerves and stay in the moment."
Beach brothers into the last four
The Bello brothers put on a stunning display for those lucky enough to have tickets to the quarter-finals against the Gambia at Smithfield.
A rowdy crowd were thrilled by an electric back-and-forth contest that went right to the wire, with a tense 15-12 final set seeing Javier and Joaquin through to a semi-final against Canada on Saturday.
The twins had taken a 1-0 lead with a 21-16 first set before being taken to a decider when Sainey Jawo and Mbye Babou Jarra dramatically edged out the home pair 22-20.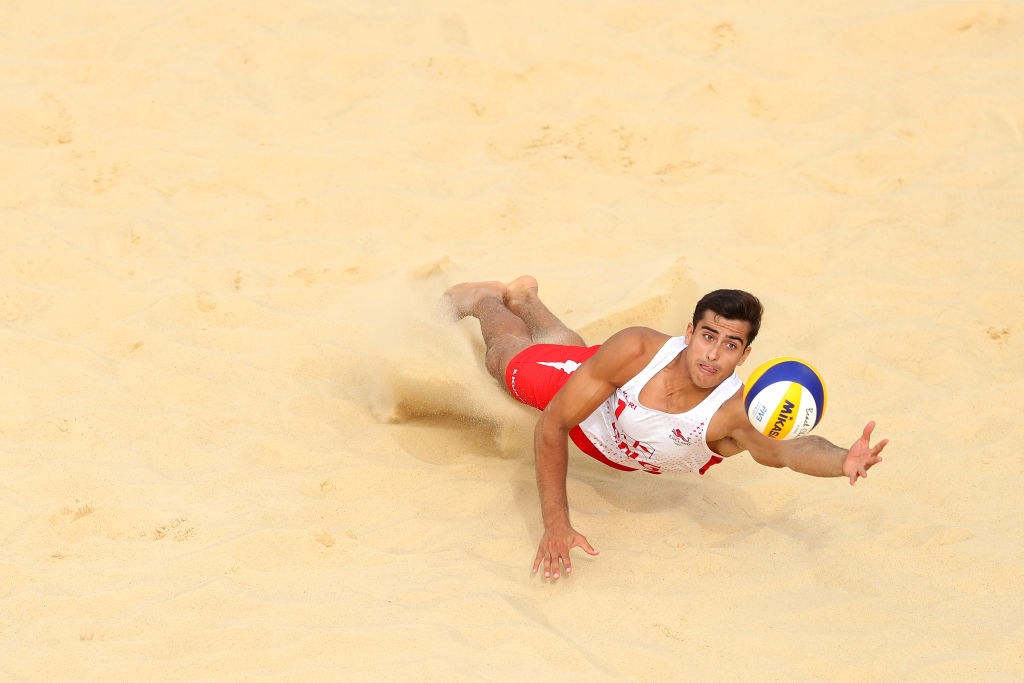 The final set was a race to 15 and the Madrid-born Englishmen produced some terrific saves and spikes to send Smithfield into raptures.
Javier said: "We have been training and playing together for many years and this was a big opportunity to show everyone how hard we work on a daily basis to get to the level that we are at.
"We will just enjoy one of the best matches that we will ever play in our career. I was overcome with emotion because it was such a special moment for our team and for our family."
The women's pair couldn't match the men's result in the evening, losing 2-0 to New Zealand to exit at the quarter-final stage.
But Daisy Mumby along with volleyball partner Jess Grimson were pleased with way they performed against a very strong Kiwi side.
She said: ""Disappointed in the result but not disappointed in our performance. I'm pretty proud of how we played. I think we put up a good fight against a strong team. It's just a shame we couldn't fight a little harder in the key moments."
Hudson-Smith keeps triple medal dream alive
Matt Hudson-Smith braved the cold and overcame a sluggish start to keep his dream of three major medals this summer alive.
On a bitterly cold evening at Alexander Stadium, the world bronze medallist over 400m was slow out of the blocks but found his form to ease to victory in his semi-final.
His time of 45.77 seconds was the fastest of any of the three semi-finals, underlining his status as the favourite after a summer in which he has broken the British record and claimed a first medal at the World Championships.
And on his home track, the Birchfield Harrier got the job done.
He said: "It was cold, so cold. It was a messy run but the job was to get to the final and I did that.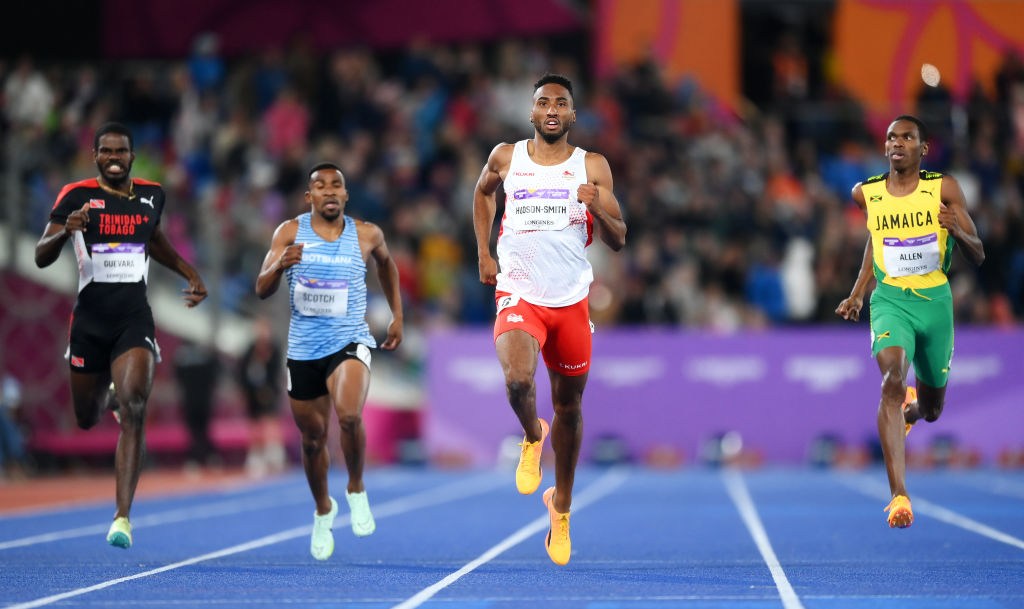 "The first 50 wasn't that good, my legs were all over the place and I was just trying to get them underneath me. I'm maybe a bit tired from Eugene but the crowd lifted me, I can't complain."
Hudson-Smith endured a nightmare Commonwealth Games four years ago in Gold Coast, disqualified in the individual before pulling up injured in the relay.
Since then he has gone through some dark times, even revealing that he had attempted suicide last year.
The 27-year-old is in a much better place now though, and still has big ambitions to add a Commonwealth medal to his World bronze, with the European Championships still to come.
He added: "I've been saying all year I want to end the year with three medals. I started off on the right track in Eugene so now it's part two. I'm making up for lost time."
Semi-finals in sight for shuttlers
Milton Keynes shuttler Sean Vendy is drinking in every single second of his Commonwealth Games experience in Birmingham ahead of his quarter-final in the men's doubles on Saturday.
Vendy booked his place in the last eight alongside partner Ben Lane thanks to a hard-fought 2-0 (21-13, 21-19) victory over Canada's Adam Dong and Nyl Kiyoshi Yakura.
It was an enthralling contest on the show court at Birmingham's NEC, with all four stands surrounding the court packed-out to fill the arena with noise.
And Vendy admitted he was taking in every moment of what is an unusual experience for a badminton player.
"We're taking all this in," said Vendy, who was born on the Orkney Islands but moved to Milton Keynes aged seven.
"We don't really get that many spectators around one court, unless you're in the final of a big tournament so every time we step out, we're cherishing the moment, making the most of it.
"We're just trying to grow the sport and I think we're doing a good job of it."
Toby Penty is also through to the last eight in the men's singles event, with a 2-0 win over Scotland's Callum Smith in a tasty home nations clash and he will face India's Srikanth Nammalwar Kidambi on Saturday evening.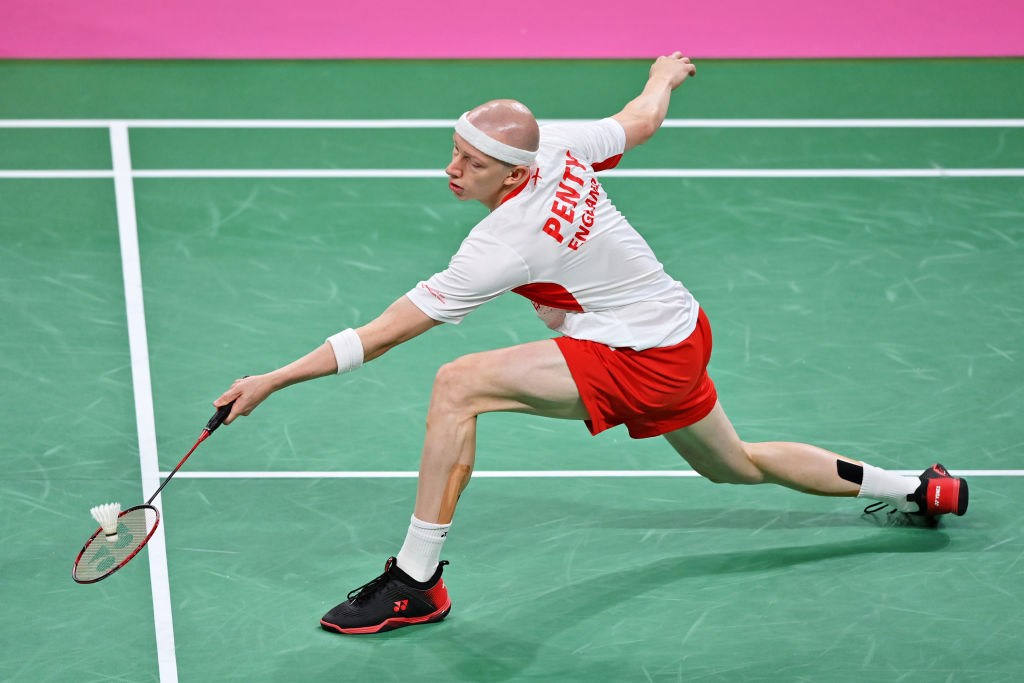 He said: "Even though I didn't play great, I showed good resilience to get through that first set and that's what I'm going to need moving forward.

"You only get these sort of experiences once and I want to look back on them and make some really good memories."
The mixed doubles pair of Callum Hemming and Jess Pugh followed suit, winning 2-0 over Jamaica to reach the quarter-finals.
Hemming, who is making his Games debut, said: "We want to go as far as possible, we want to go the full way here. We're just trying to take every game and embrace everything that's out there, take it all in.
"It's a good opportunity playing in front of crowds like that and having them on your side is even better."
Lauren Smith and Marcus Ellis also made it through to the quarters, with a 2-0 win over Uganda, and elsewhere Freya Patel-Redfearn's Commonwealth singles journey came to an end, after she lost 2-0 to Singapore's Jia Min Yeo in the last 16.
Women's pairs to go for gold
The lawn bowls women's pairs team of Amy Pharoah and Sophie Tolchard are through to the gold medal match after defeating New Zealand 19-12 today.
Earlier today they came through a tight quarter-final clash against India and now they will play Australia on Saturday morning.
Tolchard said: "We've got more in the tank. We've got to this point playing good bowls when we need to and it doesn't matter who we are playing we back ourselves to play our game."
Pharaoh added: "There's a lot of relief and we're just really happy to have guaranteed a medal and made a final but obviously it's the gold we want."
And the men's fours also progressed, with a 16-10 victory over Malaysia - they now have a semi-final against India at 6:30pm this evening.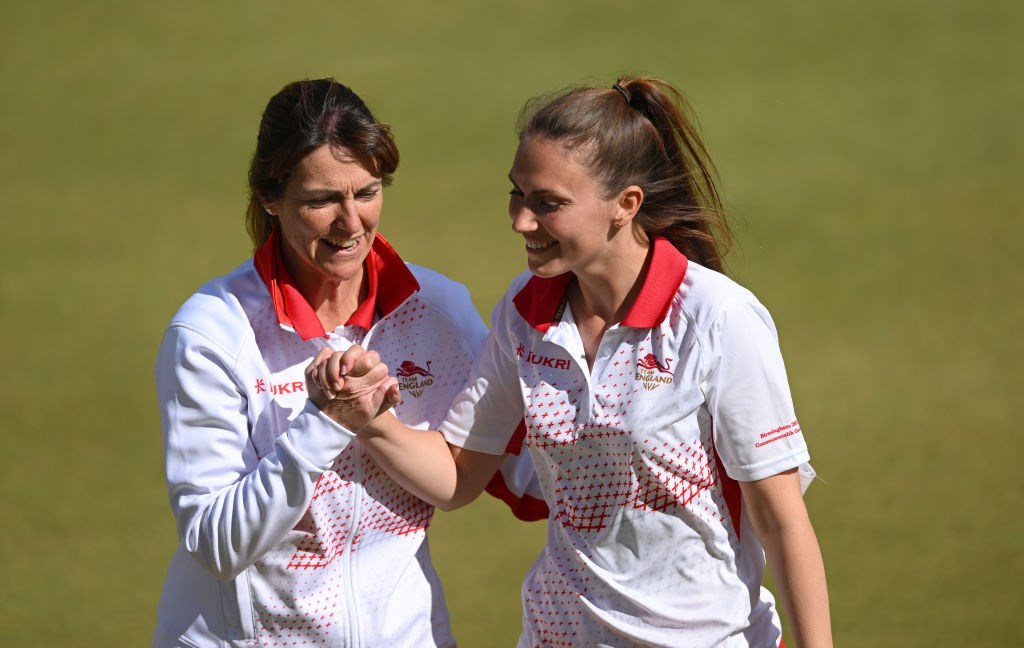 Unfortunately Jamie Walker won't be adding to his Commonwealth Games medal collection after his lawn bowls singles exit in Leamington Spa.
Walker joined forces with Sam Tolchard to win pairs silver earlier in the week but lost narrowly in the quarter-finals of the men's singles on Friday.
"I started well but then I played too many poorish ends. I felt I was still on top in the game but he just did a few things perfectly and that changed everything in his favour.
"We've played a few times and I think our record is pretty even. He's a world-class player and obviously the world champion but I didn't go in fearing anything."
Squash doubles roll on
Alison Waters and Sarah-Jane Perry, who won individual bronze yesterday, are through to the semi-finals after coming through a tough home nations battle against Scotland.
They have a day to recover from their exertions before dueling with Malaysia's Rachel Arnold and Aifa Azman on Sunday at 1:45pm.
Elsewhere, both men's doubles squash pairings advanced to the quarter-finals this morning, with James Willstrop and Declan James seeing off Malta 2-0.
Willstrop said: "Nothing is for granted in doubles, there's a lot of very good pairs out there, we've got full respect for that. We're just going to do the best level that we can. I believe we have a chance if we do that."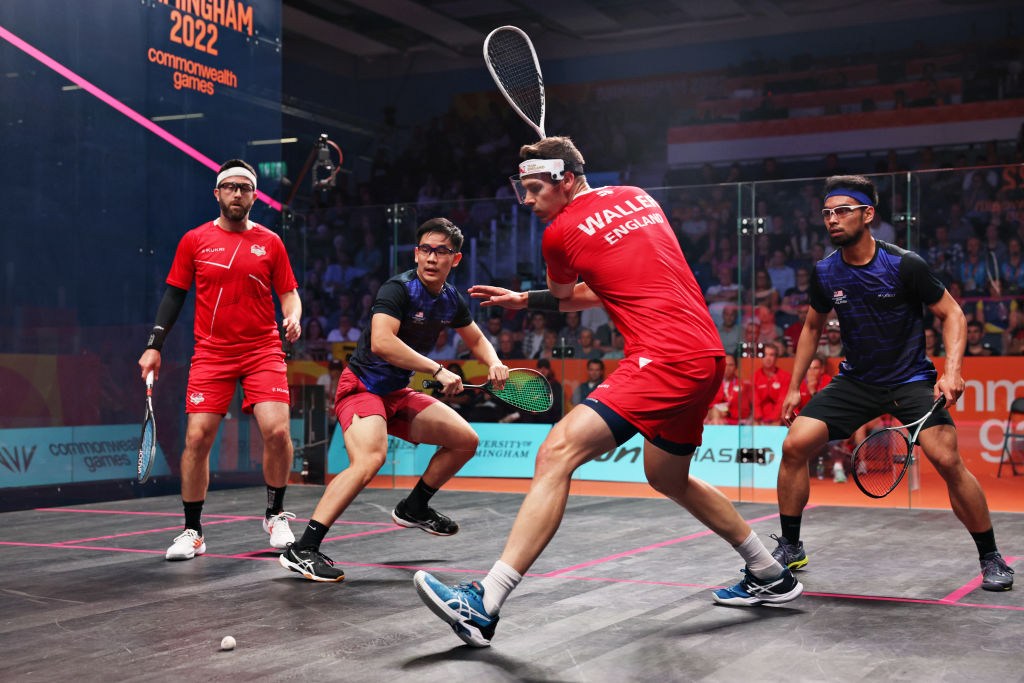 It wasn't as simple for Adrian Waller and Daryl Selby, who were made to work for their last eight spot with a 2-1 win over Malaysia's Sai Hung Ong and Mohammad Syafiq Kamal.
They dropped the first set to the Malaysians 9-11, before calmly recovering to close out the match 11-4, 11-7.
Selby said: "There are going to be eight really good teams left in the quarters. It's doubles, anything can happen, it is whoever turns up on the day and executes their game plan. We really need the crowd on our side."

They now play on Saturday evening at 6:00pm after Willstrop and James take on Cameron Pilley and Rhys Dowling of Australia at midday.
Multiple medals on the cards for table tennis stars
Para-athlete Jack Hunter-Spivey will compete for a gold medal in the men's singles tomorrow after he impressively dispatched Nigeria's Isau Ogunkunle 3-0.
He said: "I feel amazing, the way I've bounced back from the loss in the group stage shows a lot about how experienced I am."
"I'm very proud of myself. If you told me as a young kid that I'd be in the gold medal match at the Commonwealth Games… it's incredible."

Ross Wilson, Felicity Pickard and Sue Bailey will all play for a bronze medal tomorrow after losing out against Welsh, Australian and Indian opposition respectively.
Earlier this morning, Tin-Tin Ho and Liam Pitchford set the ball rolling with a 3-0 win against Canada in the mixed doubles, securing their spot in the last eight.
They will be joined by Tom Jarvis and Charlotte Bardsley, who also defeated Canadian opposition 3-2 to progress.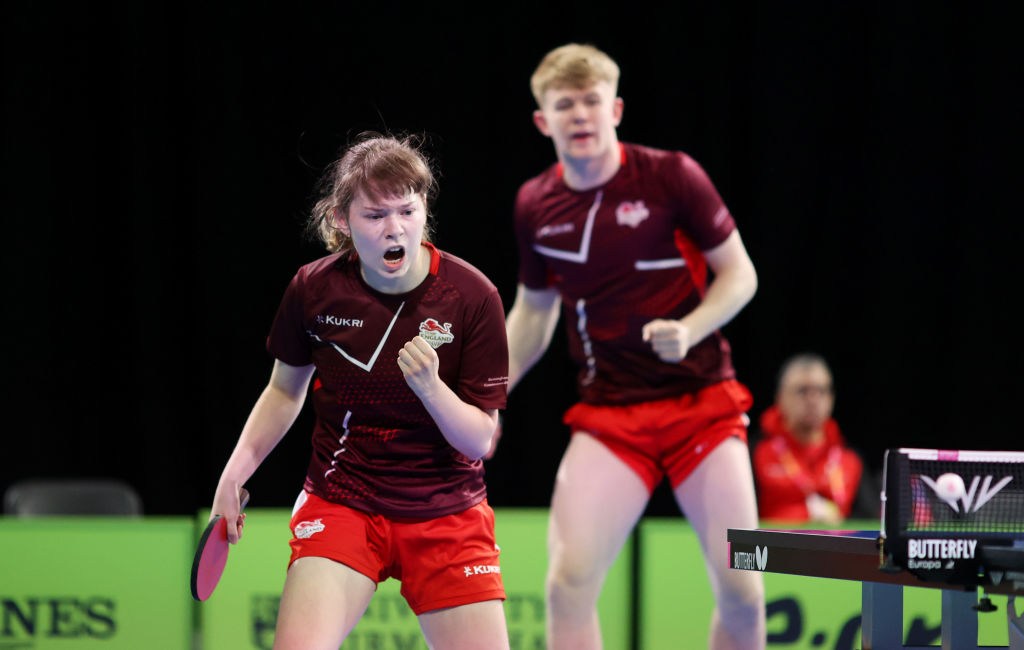 But Ho's hopes of a medal in the singles are unfortunately over after she was defeated 4-0 by Australia's Yangzi Liu.
Men's doubles pair Liam Pitchford and Paul Drinkhall earned a 3-0 win in the round of 16, and they will be joined in the final eight by Tom Jarvis and Sam Walker, who also played out a comfortable straight sets victory.
In the women's doubles, Charlotte Bardsley and Emily Bolton also progressed to the round of 16 after a 3-0 win over Uganda.
Drinkhall also enjoyed success in the men's singles, earning a 4-0 win against Pakistan's Fahad Khawaja to earn his spot in the final 16.