Nathan Maguire has had to live in the shadow of girlfriend Hannah Cockroft but he roared into the spotlight to claim the first individual gold medal of his career.
The wheelchair racer produced a blistering finish in the 1500m T53/54 race at Birmingham 2022, overhauling compatriot Dan Sidbury to take a dramatic victory.
That matched Hurricane Hannah's efforts on the opening night of athletics at the Commonwealth Games.
And while emulating Cockroft's seven Paralympic titles will take some doing, Maguire enjoyed the opportunity to add some hardware of his own to the trophy cabinet.
The 25-year-old from Salford said: "The medal tally is very much in (Hannah's) favour so this gold will go very nicely towards my side of the tally.
"This is the biggest crowd I have ever raced in front of and to do it at home, my family are in the crowd, about 30 people in the crowd are watching me. It's great that I can share my first gold medal on my own with my family and my friends."
Sidbury, meanwhile, said: "We wanted to be bold and take it on and see if we could hang on, put pressure on the guys behind and control the race from the front and we did that mostly except the last 50 metres.
"I could tell on the last lap I just didn't have it in me, it just didn't work today but that's racing. We will go back to the drawing board and hopefully come back stronger."
Another silver followed for England's Elizabeth Bird in the 3000m steeplechase in a time of 9:17.79, coming from third to make a late burst for the title but was delighted to win silver.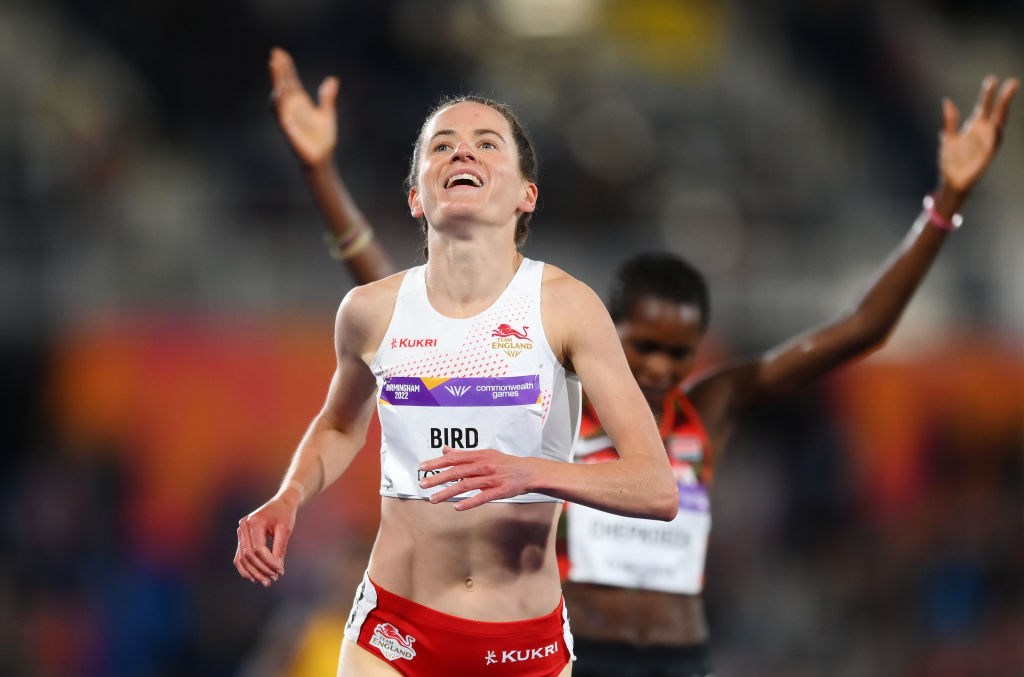 She said: "This crowd was amazing. Those last two laps, when I was trying to close the gap, I was just using that energy.
"I wish I'd started moving a bit sooner as I was so close to that gold. If I'd had another 200 metres, I could have got it but I'll take a silver.
"I wanted to run for my family and friends who have come here and give them an exciting race. I'm really happy."
Later in the evening, Preston's Naomi Metzger claimed the first international medal of her career as she produced the four longest jumps of her career to take bronze in the triple jump.
A leap of 14.32m with her very first attempt gave Metzger a dream start, and she increased that by five centimetres on her third.
That was enough to take bronze, with Metzger in dreamland.
She said: "It feels like I'm dreaming. It's basically been the perfect day, I've jumped a few PBs and come away with a medal at my home Games. It has been fabulous.
"It's just proved to me I should keep going. There are times it gets so difficult you just want to stop, you wonder 'what's the point'. But when you have moments like this, you understand why people stay in the game so long. I'm ecstatic."
Part-time brickie Scott Lincoln was thrilled to cement his place in Team England history after winning bronze in the men's shot put at the Commonwealth Games.
Northallerton's Lincoln battled through a topsy-turvy contest and dialled into the bouncing Alexander Stadium crowd to take third behind New Zealand pair Tom Walsh and Jacko Gill with a best throw of 20.57m.
Lincoln's only previous experience of the Games was fielding the call that he hadn't been selected for the Gold Coast in 2018 while operating the digger on site with his dad.
"It's not quite sunk in yet but it's absolutely incredible to get the job done in the end," said Lincoln.
"Me and my dad and a few family members and work colleagues were talking about the last Commonwealth Games. I was actually on site when I got the call to say I wasn't selected.
"I had made the standard a few times but I was in the digger at the time. We were just talking about it and having a bit of a laugh and saying how things have changed now and to make the most of it now we are here."