Since August last year, Team England has been installing plaques across the nation to celebrate athletes' gold-medal success at the Birmingham 2022 Commonwealth Games.
With a total of 65 plaques completed and installed at various locations of significance across 30 English counties, the project has proved to be an immense success. Each plaque is inscribed with the name of the athlete and the sport they became Commonwealth champion in – with a total of 16 different sports being featured. The plaques are in places chosen by the athletes which have played a pivotal role in the athletes sporting careers ranging from schools, gyms, athletic tracks and even on a railway bridge!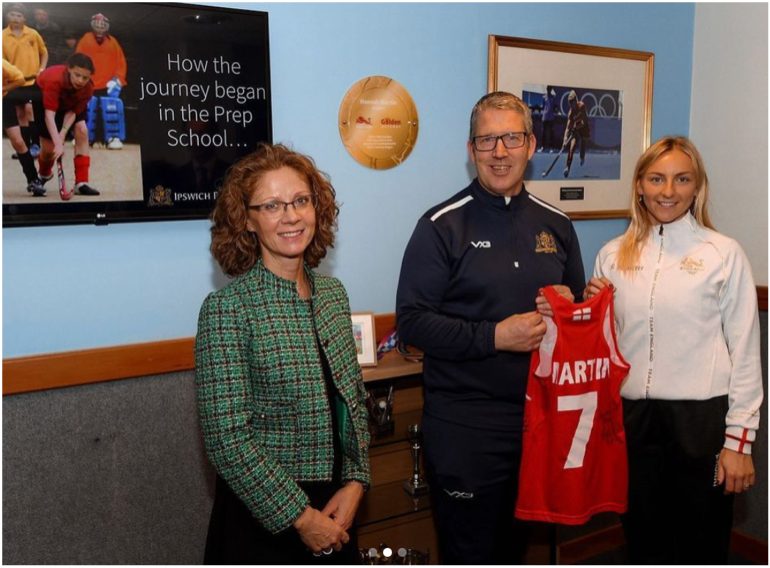 Pictured above: Team England women's hockey player, Hannah Martin with her plaque at Ipswich School

The Golden Gateway plaques are not just a celebration of individual athletes; they also represent the hard work and dedication that went into each athletes' victory and shine a light on the venues which helped them on their journey to become Commonwealth Games champions.
Commenting on how Ipswich School played a big part in her sporting success, Hannah Martin says: "Ipswich School was instrumental to my journey as a hockey player. In fact, I am not sure I would have picked up a stick without the school! It was where my passion and love for the game started, and I was lucky to have some incredible coaches along the way who guided my enthusiasm and gave me the confidence to excel and enjoy playing".
Reflecting on how Woodcock Sports Centre provided the space for Delicious Orie to train alongside his studies, he comments: "Aston University Woodcock Sports Centre means a lot to me. In a way I grew up here. I became a man here…This venue has provided all the facilities that I need to allow me to become Commonwealth Games champion."
The plaques also present an opportunity to motivate the next generation of athletes. By celebrating the remarkable achievements of these gold medalists at their former schools or junior clubs, they act as a physical source of inspiration to aspiring athletes competing in the same spheres.